Two years have passed since Nangarin, like so many communities in the area, benefited from the dedicated work the Rural Fire Service and Fire & Rescue undertook in defending communities along the fire front of the Green Wattle Creek bushfire. Today, the shower of burning embers and smoke of that event has been replaced by a consistent summer rainfall pattern from effects of La Niña. While current conditions are a welcome reprieve from a major bushfire threat, it is important we, as a community, are not complacent in living in what is a recognised bushfire prone area. Being prepared for such events is an important aspect of our estate and was the focus of a major joint training exercise held at Nangarin on Sunday February 6.
Nangarin has an established Community Fire Unit (CFU), comprising 11 trained residents, operating under the guidance and training support of the Lakesland Rural Fire Service. The Nangarin CFU has the objective of assisting with asset protection within the Nangarin Estate, either as early responders or assisting RFS teams.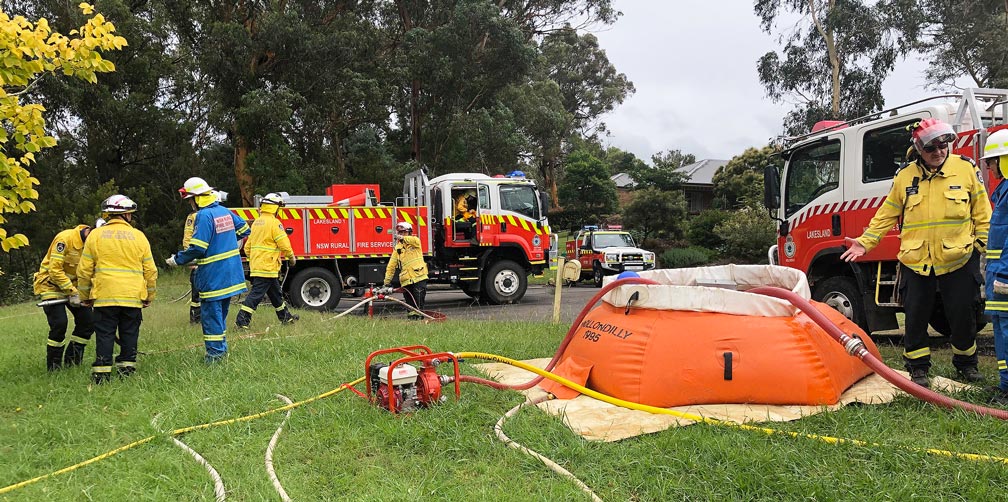 Last Sunday, February 6, saw teams from Lakesland RFS, Picton RFS, Nangarin CFU and Nolan's Road CFU join forces in a training exercise to hone firefighting skills and fine tune on-site coordination and communication techniques between all the teams in a mock firefighting exercise, devised by Lakesland RFS and held in the Stonequarry Creek area adjoining The Vines.
Glenn Allerton, Nangarin CFU Team Leader, sums up the benefits of such exercises:
"By working together to address simulated fire scenarios, participating crews gain familiarity with the operations, capability and equipment used by their volunteer counterparts. Cohesion between teams is seen as an important element when confronting a fire emergency"
Reflecting on the day, Serge Crismale, Lakesland RFS Training Coordinator, who had the responsibility of planing the various activities said:
 "Scenario based training is an important tool to make sure crews can work under pressure. With over 30 personnel in 5 RFS vehicles and 2 CFU units, there were many opportunities to test members in the various aspects of operating in a confined area and limited water supply. All firefighters did well to protect the 3 properties that were "under attack" and overcame the challenges thrown at them, showing they are well prepared".

Initially there was the threat of rain showers during the training, but luckily this didn't eventuate. Feedback at the end of the training exercise was very positive and the opportunity was invaluable for all crews where COVID 19 restrictions had previously restricted such training activities.

The training session was followed by a Family Day & BBQ, hosted by Lakesland Brigade, for participating crews, their families, Nangarin and Lakesland residents. Many attended the BBQ and residents took the opportunity to take the 'Bush Fire Survival Plan' kits. Children enjoyed climbing into the various fire trucks on display, having a selfie with uniformed team members and generally all enjoyed the relaxed social atmosphere under blue skies, with the vineyard as the backdrop . A great success and thanks to Natalie Fergusson, Lakesland RFS Captain, Sam Hawley and the members of Lakesland RFS for organising the family day!

Photos Courtesy of: Darren Colombo, Natalie Fergusson, Michelle Collins